About Us!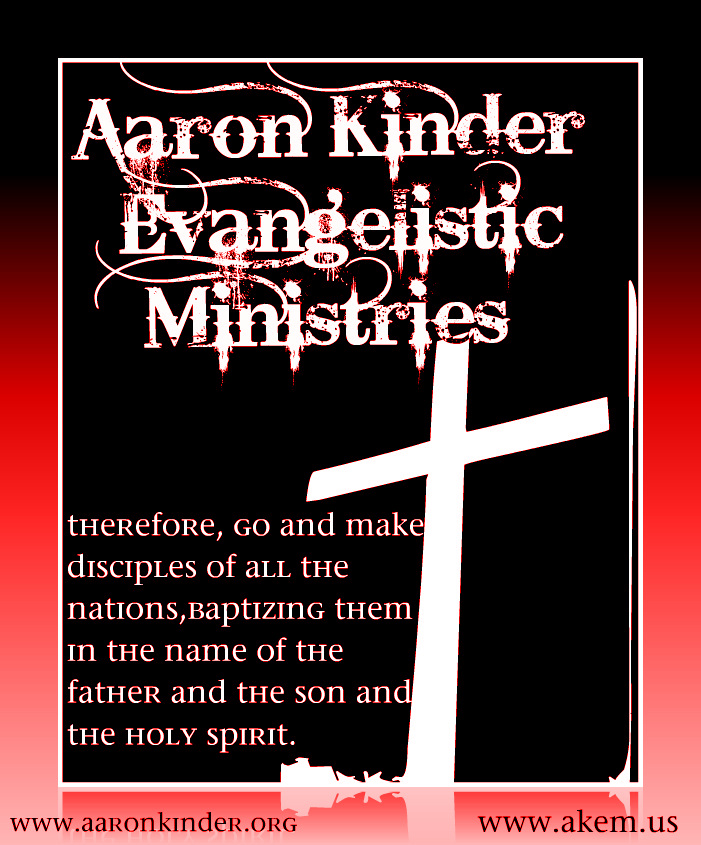 Aaron Kinder Evangelistic Ministries is a ministry focused on spreading the good news of Jesus Christ to all peoples, tribes and tongues. With a focus on evangelism and discipleship, we believe that no person is beyond the redemptive grasp of the Lord, Jesus Christ.
We strive to equip and exhort Christians to follow the Great Commission of Jesus and to do as God's word tells us in 2 Timothy 4:2:
"Preach the word! Be ready in season and out of season. Convince, rebuke, exhort, with all longsuffering and teaching."
We believe there is no such thing as a lost cause. There is hope for alcoholics. There is hope for drug addiction. There is hope for broken marriages. There is hope for immorality (adultery, fornication and homosexuality). There is hope for our children. There is hope for false religion and false doctrine. That hope is none other than Jesus Christ.
"Nor is there salvation in any other, for there is no other name under heaven given among men by which we must be saved." Acts 4:12
No other name .... but Jesus alone. Buddha cannot save you. Muhammad or Allah cannot save you. Joseph Smith or Charles "Taze" Russell cannot save you. Not even Moses or the Pope can save you. Our simple, yet powerful message is this: Jesus alone is your hope of salvation. He is the only one who can save us from our sins and He is more than willing to do so if only we come to Him.
We spread that message by one-on-one evangelism with friends, family, co-workers, internet evangelism and any other means to fulfill Jesus' Great Commission.